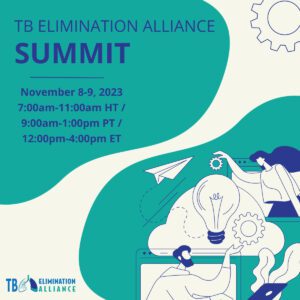 Since its inception in 2019, TEA distributed over $800,000 in mini-grant funding to 35 community health organizations. TEA's Mini-Grant Program funds community-centered projects serving Asian, Asian American, Native Hawaiian, and Pacific Islander, Hispanic/Latino, and African American communities that are disproportionately impacted by TB.
The 2023 TEA Summit focused on the theme "Building Healthy Communities Free of TB", showcasing TEA's Mini-Grant Program and the remarkable innovations from diverse communities and their collaborative efforts towards achieving health equity over the past five years.
Over the span of two days at the virtual summit, participants tuned into discussions on lessons learned and promising practices from our communities on the impact of TEA's mini-grants.
See below to access resources from the 2023 TEA Summit.
Wednesday, November 8, 2023
Voices of Impact: Shaping TB Elimination and Community Equity
View Recording
Session
Speakers
Moderator
Resources
Welcome & Opening Remarks

Philip LoBue, MD, Director, Division of Tuberculosis Elimination, CDC

Jeffrey Caballero, MPH, Executive Director, Association of Asian Pacific Community Health Organizations (AAPCHO)

Juliet K. Choi, JD, President and CEO, Asian Pacific Islander American Health Forum (APIAHF)

Chari Cohen, DrPH, MPH, President, Hepatitis B Foundation

Frank Hood, Director, Hep B United, Associate Director of Policy & Internships, Hepatitis B Foundation

Cynthia Tschampl, PhD, Chair, Stop TB USA

Chibo Shinagawa, MS, PMP, Senior Program Manager, Infectious Diseases, AAPCHO

CDC Think. Test. Treat TB Campaign

Session I: Diverse Voices and Collective Solutions: Community-Led TB Initiatives

Elizabeth Harding, MD, Family Physician, Jericho Road Community Health Centers (Buffalo, NY)

Alok Sarwal, PhD, MBA, Co-Founder and Executive Director, Colorado Alliance for Health Equity & Practice (Denver, CO)

Mai Xiong Vang, RN, MSN, PHN, TB Program Manager, St Paul Ramsey County Public Health (St. Paul, MN)

Tenzin Kunor, Multi-Drug Resistant TB Survivor & Advocate, We Are TB (National)

Nashia Choudhury, MPH, Director of Programs, Health Care Transformation, AAPCHO

Jericho Road Community Health Center

Dr. Elizabeth Harding Slides

Colorado Alliance for Health Equity and Practice

St. Paul Ramsey County Public Health

Session II: Elevating Pasifika Voices: Shaping TB Elimination with Community Wisdom

Kapiolani Micky, Community Outreach Worker, Micronesian Islander Community (Salem, OR)

Kekoa Lopez-Paguyo, MPH, Project Manager,  Regional Pacific Islander Task Force (San Francisco Bay Area, CA)

Ashley Calvo-Rodriguez,  Clinic Administrator and Lead Trainer, Todu Guam Foundation (Tamuning, Guam)

Lucy Hansen, Executive Director and Founder, Polynesian Association of Alaska (Anchorage, AK)

 John Nguyen-Yap, Director of Programs, Community Initiatives, AAPCHO

Micronesian Islander Community 
Closing Remarks & Overview of Day 2
Summit Day 1 Evaluation Survey
Thursday, November 9, 2023
Together Towards a TB-Free Tomorrow
View Recording
Session
Speakers
Moderator
Resources
Welcome & Opening Remarks
Mukta Deia, Program Coordinator, Infectious Diseases, AAPCHO
Session III: California's Model Efforts in TB Prevention and Elimination: A National Template for Success

Alan Doan, Program Manager, Asian Pacific Health Foundation (San Diego, CA)

Adama Dyoniziak, MPH, CPH, Executive Director, Champions for Health (San Diego, CA)

Meagan Lee, MPH, Research Coordinator, North East Medical Services (San Francisco, CA)

Tricia Nguyen, MPH, Chief Executive Officer, Southland Integrated Services (Garden Grove, CA)

Fayette Nguyen-Truax, PhD, RN, CPNP-PC, Associate Professor, Loma Linda University

Asian Pacific Health Foundation
Session IV: Innovating for a TB-Free Future: Current Projects and Their Prospective Hopes

Duncan Reid, MD, MS, Medical Director, EthnoMed (Seattle, WA)

Mei Kan, MPH, Project Coordinator, Midwest Asian Health Association (Chicago, IL)

Robin Lewy, Co-Founder and Director of Programing, Rural Women's Health Project (Gainesville, FL)

Jacqueline Cuen, TB Survivor & Peer Support Navigator, We Are TB (National), Somos TB & Karen Reynas, TB Survivor, We Are TB (National), Somos TB

Pervaiz Tufail, TB Survivor, Director, TBPeople Pakistan

EthnoMed
Session V: Closing Session: Honoring Visionaries and Building Healthy TB-Free Communities

Jeffrey Caballero, MPH, Executive Director, AAPCHO

Cynthia Tschampl, PhD, Chair, Stop TB USA

Nickolas DeLuca, PhD, Chief of Communications, Education, and Behavioral Studies Branch, Division of Tuberculosis Elimination, CDC 

Amee Patrawalla, MD, PhD, Secretary, Stop TB USA

Ed Zuroweste, MD, Founding Medical Director, Migrant Clinicians Network

Chibo Shinagawa, MS, PMP, Senior Program Manager, Infectious Diseases, AAPCHO

Summit Day 2 Evaluation Survey