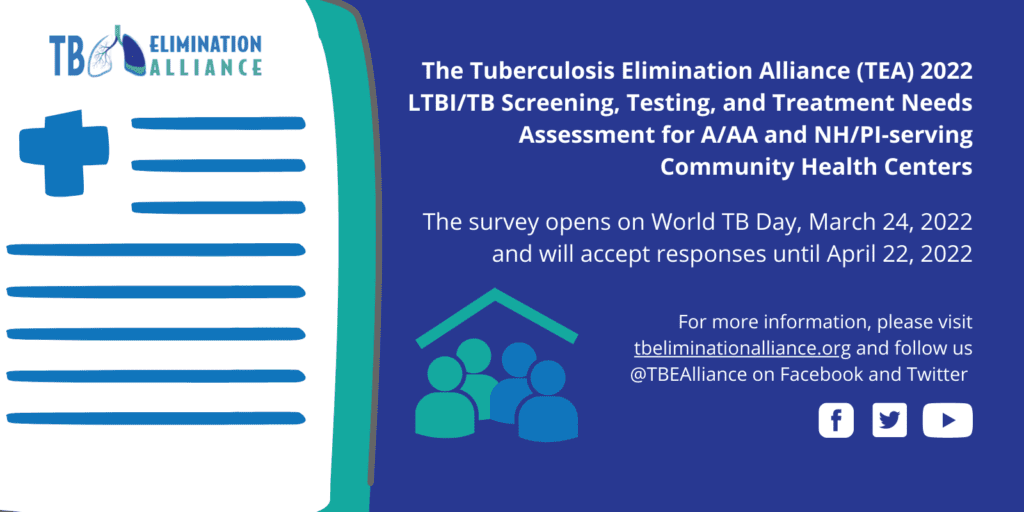 Start Date: Monday, March 28 
End Date: Friday, April 29
With 7,860 reported tuberculosis (TB) cases and an estimated 13 million individuals living with asymptomatic latent TB infection (LTBI) (CDC, 2021), LTBI/TB disease continues to impact those living in the U.S. and its territories. Of these statistics, Asian, Asian American (A/AA), Native Hawaiian, and Pacific Islander (NH/PI) populations are disproportionately impacted by TB at a greater rate compared to other racial and ethnic groups. A/AAs accounted for nearly 36% and NH/PIs accounted for nearly 2% of all U.S. TB cases in 2021. 
Community health centers play a critical role as safety net providers and community partners to address the complex health and social needs of vulnerable populations with increased risk of TB. At the forefront of intervention, collection of data on the challenges and innovations of community health centers' latent tuberculosis infection (LTBI)/TB practices will inform the need for comprehensive and population specific LTBI/TB testing and treatment for high-risk populations.
The Tuberculosis (TB) Elimination Alliance (TEA) invites community health centers in the U.S. and U.S. Territories (e.g., Pacific Islands) to complete a 30-minute survey which will be released following World TB Day, on Monday, March 28 Findings from the survey will  continue the 2017 AAPCHO-led latent tuberculosis infection (LTBI)/TB needs assessment project by collecting updated data on A/AA- and NH/PI-serving community health centers' needs and current protocols for LTBI/TB-related screening, testing, and treatment. 
Additionally, we hope to connect community health centers at all levels of LTBI/TB knowledge with:  
Detailed and comprehensible LTBI/TB screening, testing, and treatment resources; 

Actionable guidelines on patients' treatment management; 

Culturally-sensitive in-language patient educational materials; and 

Recommended communal interventions addressing patients' social barriers to LTBI/TB testing, treatment, and education. 
These resources will be found on TEA's updated resource page here.
Applicable respondents will receive a $100 honorarium. We look forward to hearing your responses and thank you for your willingness to share your experiences and knowledge about LTBI/TB!
Have questions? Please email tea@aapcho.org.